DOUBLE YOUR CLOSE RATE
WITHOUT LOWERING YOUR PRICE
Develop a winning, repeatable sales process
and master proven sales techniques,
even if you aren't a "sales" person.
What makes Countertop Sales so Challenging?
Wasting your time with prospects who never buy –  endlessly following up with prospects who never commit?
Educating your customer to help close a sale – ultimately helping them buy from someone cheaper (with your design ideas)?
"Winging it" with every prospect – treating every appointment as a unique experience?
What if you were able to:
Increase Monthly Revenue
Shorten Your Sales Cycle
Increase Your Close Rate
Improve Job Profitability
Predict Future Revenue
Onboard New Sales Reps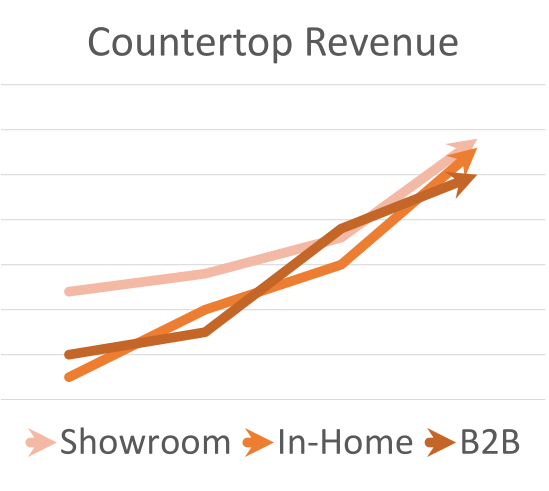 A Sales Program designed specifically for Countertop Fabricators!
Wouldn't it be fantastic if every homeowner, who walked into your showroom or invited you to visit their kitchen, bought from you that very same day?
Easier said than done, right?
This program is committed to working with you to achieve:
a faster sales cycle
a higher close ratio
and increased job profits!
(Reduce think-it-overs, prevent competitors undercutting your prices, and eliminate discounting.)
The idea is simple: owners and sales professionals from around the country attend our weekly online sales workshops to exchange ideas and best practices, refine marketing and sales strategies, and challenge Stevenson Brooks – the Fabricators Coach for Sales – to overcome the toughest sales obstacles you and your team face.
Your commitment:
a monthly financial investment,
90 minutes a week to learn new skills and strategies,
and a desire to put it all into practice.
Let's get started!
The Fabricator's Coach for Sales
Sales Mastery Program
Each week we cycle through the following modules:
The Process
Create your very own retail sales process that's simple, streamlined, and repeatable. Whether it's an in-home or showroom appointment, we will establish the correct order of events and manage your time, and your prospect's time, effeciently.
Answering the Phone
We cannot afford to lose any inbound leads, so our phone and email skills must be professional, thorough, and timely. In this module we define a process for collecting lead information quickly as well as KPI's to prevent any lead losses.
Ending the FREE Design Consulting
How to establish yourself as the expert to guide them on their journey while getting commitment early. No more giving away your expertise and time for free!
Getting the Budget Up Front
How to ask for and get to a budget number that the prospect is willing and able to spend. We work on building your confidence to talk about money realistically rather than finding out that the prospect had a champagne taste with just a beer budget.
Working with Different Styles of People
How to quickly identify your prospect's behavior and learning style to customize your sales approach to match theirs. We also work on understanding "couple dynamics" when selling to homeowners.
Closing Customers
 How to overcome the toughest of price objections and negotiate like a pro – without being pushy.
Selling Your Value
Understand what you are best at and how to communicate it to your prospects. Learn how to effectively explain your process, your people, and your commitment to successful projects.
Asking More & Better Questions
How to dig deeper to understand your prospect's requirements, dreams/motivations, fears/resistance, and buying process. We also learn to avoid "over-educating" prospects along the way.
Follow Up, Follow Up, Follow Up
 Setting up next steps after every conversation and then following through.
Sales Metrics
 What to track, how to track it, and then what to do with the information you've tracked.
Sales Automation
 How to incorporate technology into your sales process to make it easier (not a burden).
Building Strategic B2B Relationships
 Understanding how to become a great partner for ongoing work – and at your prices.
Join your fellow fabricators & increase your sales today!
30-Day
Money Back Guarantee
If, for any reason, you do not believe that this program will help you and get the results you'd like, we will gladly refund your first month and cancel your membership.
Still Have
Questions?
Send an email to steve@mbsbllc.com and we can set up a telephone call to discuss any questions, comments, or concern you might have about this program.
Sales Mastery Program
Monthly Subscription
90-minute Group Coaching Calls

All Classes Recorded

Access to all Previous Classes

Interactive Q&A Sessions
SAVE 50%
Introductory Offer
$247
for your first month
---
$497 each month thereafter
Cancel anytime
Get Started Today
*billed through MBSB LLC
"Mentoring By Steve Brooks"